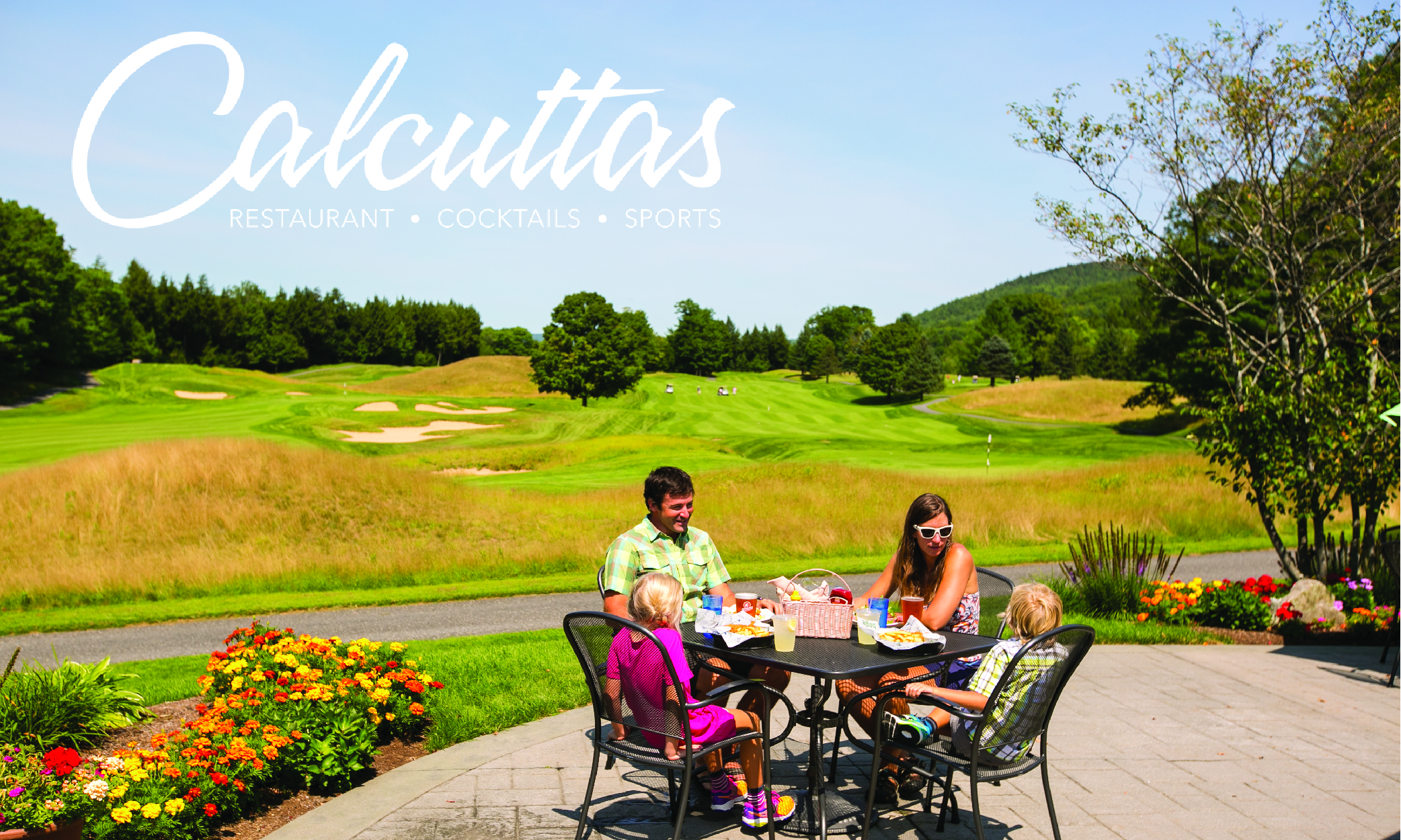 One of our favorite spots to grab a bite to eat is located just across the street from our office! Did you know our front yard is home to the Fox Run Golf Course? We love taking a walk over to the course to enjoy a team lunch break with a view of the course.
If you haven't heard the news, the old Okemo Valley Golf Club is now the Fox Run Golf Course! The new owners have reimagined the dining space here on the course and have introduced the all-new Calcuttas Restaurant. This is the perfect place for lunch or a great spot to relax after playing a round of golf or hitting some balls at the driving range. Calcutta's is open to the public and welcomes everyone whether you are golfing or not.
The menu at Calcuttas is fitting for both the picky eater in your family and the most adventurous palette. There are lots of options to choose from the fresh salad mixes to the homemade sammies. Enjoy the "Starters to Tee Off" like the Thai Meatballs, Cornmeal Fried Shrimp, or The Kings Wings. Try one of the "Sammies from the Fairway" like the Pulled Pork Sliders, Baja Chicken Sand Wedge, or the famous Clubhouse. Keep it green with one of the delicious salads like the Apple Poppy or the Cucumber Caprese. The dinner menu features entrees like the Everything Bagel Spiced Ahi Tuna, the Seared Crab Cakes, and the Ultimate Mac & Cheese. With specials like the Flat Bread of the Day, you'll never get bored of this menu!
The drink menu features draft beer, canned beers, wine, and cocktails. Enjoy a cool Vermont draft like Switchback or Fiddlehead or a variety of Vermont canned beers like Long Trail or Harpoon. Take your pick of a glass of red or white wine to enjoy on the patio or with your meal. The cocktail list features a variety of flavors like the Tequila Smash, the Lavender Bees Knees, or the Chili Lime Bloody Mary!
Calcuttas is open Wednesday through Sunday from 12 p.m. to close. Contact the team at (802) 975-0228 or visit them at 89 Fox Lane in Ludlow, VT. Stop by our office and say hi to one of our Realtors on duty while you're in the neighborhood.
Be sure to stop by Calcuttas to enjoy a cocktail or beer on the patio, watch the sunset over the golf course, or devour a delicious meal with friends and live music.